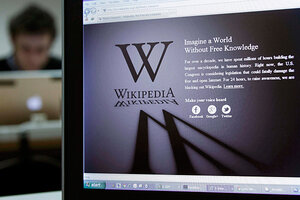 Yves Herman/Reuters
Well, it's not quite doomsday, but for plenty of Wiki-trawlers worldwide, it's lights out.
Today, Wikipedia – that vast, crowd-sourced online encyclopedia – has gone dark, in a protest of the Stop Online Piracy Act and the Protect IP Act, two bills currently under consideration in the US House of Representatives and Senate, respectively. In a press release, Wikipedia founder Jimmy Wales railed against the legislation, which he said threatened the "free and open internet."
"Today Wikipedians from around the world have spoken about their opposition to this destructive legislation," Wales wrote. "This is an extraordinary action for our community to take – and while we regret having to prevent the world from having access to Wikipedia for even a second, we simply cannot ignore the fact that SOPA and PIPA endanger free speech both in the United States and abroad, and set a frightening precedent of Internet censorship for the world."
---