Facebook CEO Mark Zuckerberg lashes out at SOPA, PIPA
(Read article summary)
Mark Zuckerberg, the CEO of Facebook, took to his social-networking site yesterday to speak out against SOPA and PIPA, which Zuckerberg called "poorly thought out laws."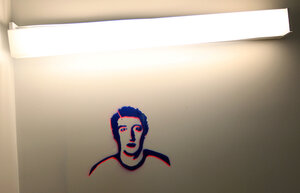 Reuters
SOPA and PIPA protests reached fever pitch yesterday, as hundreds of thousands of Web users raged against two proposed bills that have been criticized as heavy-handed and intrusive. Among the protesters? Mark Zuckerberg, the founder of Facebook.
In a post to his Facebook wall, Zuckerberg called SOPA and PIPA "poorly thought out" and encouraged readers to get in touch with their local representatives.
"The internet is the most powerful tool we have for creating a more open and connected world. We can't let poorly thought out laws get in the way of the internet's development," Zuckerberg wrote. "Facebook opposes SOPA and PIPA, and we will continue to oppose any laws that will hurt the internet. The world today needs political leaders who are pro-internet."
As of this writing, the post had been "liked" by almost half a million Facebook users, and garnered close to 100,000 shares.
---