#TwitterBlackout: Protests brew as complaints over censorship come to a boil
(Read article summary)
Twitter on Thursday announced it would invoke the ability to censor some tweets on a country-by-country basis. Cue the global backlash.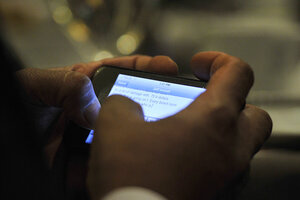 Reuters
Twitter yesterday announced that it would invoke the right to censor messages on a country-by-country basis. In a blog post, Twitter reps said the move was necessary to abide by the laws of "countries that have different ideas about the contours of freedom of expression." In the past, Twitter was forced to strike clean objectionable tweets on a "global" scale – the offending message, in other words, would disappear across the board.
With the new technology, Twitter can preserve content in some countries, while preventing it from being seen in others. "We have also built in a way to communicate transparently to users when content is withheld, and why," Twitter reps wrote. "We haven't yet used this ability, but if and when we are required to withhold a Tweet in a specific country, we will attempt to let the user know, and we will clearly mark when the content has been withheld."
Perhaps inevitably, the announcement has been met with tremendous push-back from certain corners of the Web, where thousands of Twitter users have banded together to rage against the new policy. For most of the day, #TwitterBlackout has dipped on and off the trending topics list on Twitter – a reference to a grassroots protest planned for Saturday, January 28.
Up in arms over Twitter censorship? Join the blackout, and stay away from Twitter for 24 hours.
---