Facebook IPO turns graffiti mural into a $200 million payday
(Read article summary)
David Choe, the artist commissioned to paint a mural in Facebook HQ in 2005, is about to become a very rich man indeed – all thanks to some graffiti murals and the Facebook IPO.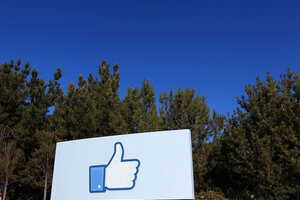 Reuters
Good work if you can get it.
In 2005, the artist David Choe was hired to paint some murals in Facebook HQ. Facebook, then a young and scrappy social network, offered Choe a choice of two forms of payment: cash or Facebook stock. In an interview with the New York Times this week, Choe recalled that he eventually decided on the stock option, even figured his choice was "ridiculous and pointless." Fast forward a few years, and Choe is poised to become a multimillionaire.
According to the Times, assuming Choe hasn't otherwise unloaded the stock, his Facebook shares will be worth approximately $200 million when Facebook goes public later this year. (On Wednesday, Facebook filed S-1 papers with the US Securities and Exchange Commission, a move that brings the social network, which could be valued at $100 billion, one step closer to its long awaited IPO.)
---