Steve Jobs: FBI file says Apple CEO could 'distort reality'
(Read article summary)
The FBI has released a decades old file on Apple founder Steve Jobs. The bureau said that Jobs would "twist the truth."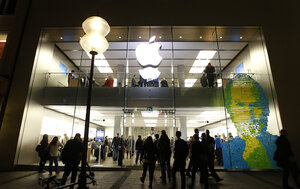 Reuters
In 1991, the FBI conducted a background check on the late Apple founder Steve Jobs, who was then under consideration for a post in the George H.W. Bush White House.
Now, two decades later, in response to a Freedom of Information Act request, the government has finally released the 191-page file, and the documents within offer an intriguing look at the man behind the Apple empire.
Among the topics covered: Possible past drug use; a Top Secret government security clearance given to Mr. Jobs in 1988 (the reasons remain unclear); and the often contentious relationship between Jobs and his employees. "Several individuals questioned Mr. Jobs' honesty stating that Mr. Jobs will twist the truth and distort reality in order to achieve his goals," read the FBI documents, according to USA Today.
(It's worth noting here that in 1991, when the FBI file was created, Jobs had been fired from Apple, and moved to positions at Pixar and NeXT Computer, which he founded. In fact, the employer listed on the 1988 security clearance was Pixar. In 1996, Apple purchased NeXT, and Jobs returned to his former company.)
---