Google plans to challenge Dropbox with cloud-sync service: report
(Read article summary)
Rumors have been circulating about a Google cloud-storage service that would give easy access to media wherever there's an Internet connection. Now, a new report suggests that Google is planning to launch the service in just a few weeks.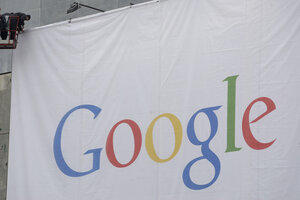 Petros Giannakouris/AP/File
Quick: picture a web service that gives you easy access to your files and media, wherever you are. You can upload your stuff to a server and pull it down to as many devices as you want, anywhere you have an Internet connection.
Sound familiar? That's the model behind services such as Dropbox, Box.net, and Windows Live SkyDrive. But according to a new report, Google will soon muscle in on the cloud-storage turf with its own service.
The Wall Street Journal, citing "people familiar with the matter," reported Thursday that Google is preparing to launch a long-rumored service called "Drive" sometime in the next few weeks or months. Why use Drive over an existing service? Well, assuming you already have a Google account, you probably already have a lot of photos, documents, and other media stored on Google's servers. Drive would give you one-stop access to all your files, wherever you have an Internet connection.
To be fair, Google's other services already offer a fragmented version of cloud syncing. Take a picture on your Android smart phone, for example, and Google can automatically upload it to its Picasa photo service, where it's held in a private album until you decide to publish it. Google Docs offers an easy way to keep documents in the cloud -- in fact, you never need to download a local copy if you don't want to. (Google also gave users the ability, back in 2010, to upload any kind of media to Google Docs, so it can already function as a catchall backup service, albeit in a hacky sort of way.)
---