iPad 3 rumors solidify around release window, but not features
(Read article summary)
The iPad 3 release lands in March, according to a new report. So what can analysts and supply-chain reporters tell us about what's included in this iPad 3 release?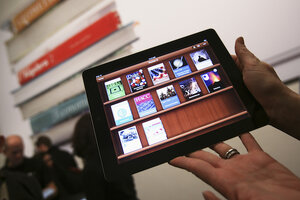 Reuters
Apple could release a new iPad as early as next month. As we noted yesterday, several new reports point to a March unveiling in San Francisco, presumably followed – a week or so later – by the official launch of the iPad 3. So what kind of features will Apple load onto its latest tablet?
An improved screen, for sure. The current model iPad – the iPad 2 – sports a 9.7-inch display, with 1024-by-768-pixel resolution. Decent, but there's plenty of room for improvement, and the bulk of the recent iPad 3 gossip has centered on a Retina Display, similar to the one used on the iPhone 4 and iPhone 4S. Writing this week in All Things D, John Paczkowski predicted the iPad 3 would get a 2048-by-1536 pixel resolution, "or something close to it."
As for the shape of the forthcoming device – well, odds are that Apple won't reinvent the wheel the tablet here. A recent image, published first on the Repair Labs Blog, and then circulated elsewhere, purportedly shows the iPad 3, and it looks a lot like the iPad 2. The difference, according to The Verge: structural changes "which will allow for a larger battery, slightly reconfigured logic board, new cameras, and a different screen."
---