PlayStation Vita review roundup
(Read article summary)
The PlayStation Vita handheld gaming platform launches this week. So how good is Sony's latest gadget?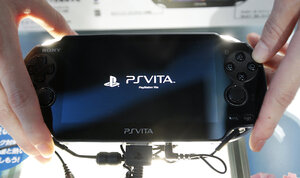 Reuters
The PlayStation Vita, the latest video game portable from Sony, launches tomorrow in a limited first edition bundle, to be followed on Feb. 22 by the standard-issue hardware. The Vita, as we've reported in the past, faces a pretty big challenge: Attracting all those gamers who would rather buy cheap downloadable titles, and play them on their iPhone/Android/tablet.
So hey, how good is the Vita, exactly? Pretty good, according to reviewers. But before we hit the scorecards, here are the relevant details: The Vita sells at two price configurations, $249 for a Wi-Fi model, and $299 for a Vita with 3G connectivity. Launch titles include a new "Uncharted" game, "Gravity Rush," and "WipeOut 2048." Got it? Then let's roll.
The opening shot
"The Vita – hefty and gleaming, like the Space Shuttle – is the best and most capable portable gaming system of all time, in that it replicates 'the console experience' better than anything else ever has," writes Sam Biddle of Gizmodo. "The graphics it pushes through on its 5-inch screen actually approach what you can see with a PlayStation 3. Approaches, not equals, but still! It's a handheld gaming system – and being able to even see the taillights of a current-gen console is laudable."
The design
---