PlayStation Vita review roundup
(Read article summary)
The PlayStation Vita handheld gaming platform launches this week. So how good is Sony's latest gadget?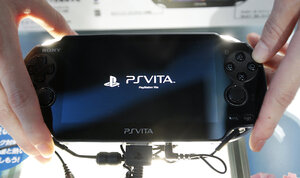 Reuters
The PlayStation Vita, the latest video game portable from Sony, launches tomorrow in a limited first edition bundle, to be followed on Feb. 22 by the standard-issue hardware. The Vita, as we've reported in the past, faces a pretty big challenge: Attracting all those gamers who would rather buy cheap downloadable titles, and play them on their iPhone/Android/tablet.
So hey, how good is the Vita, exactly? Pretty good, according to reviewers. But before we hit the scorecards, here are the relevant details: The Vita sells at two price configurations, $249 for a Wi-Fi model, and $299 for a Vita with 3G connectivity. Launch titles include a new "Uncharted" game, "Gravity Rush," and "WipeOut 2048." Got it? Then let's roll. 
The opening shot 
"The Vita – hefty and gleaming, like the Space Shuttle – is the best and most capable portable gaming system of all time, in that it replicates 'the console experience' better than anything else ever has," writes Sam Biddle of Gizmodo. "The graphics it pushes through on its 5-inch screen actually approach what you can see with a PlayStation 3. Approaches, not equals, but still! It's a handheld gaming system – and being able to even see the taillights of a current-gen console is laudable." 
The design
"The Vita measures just 3.29-inches high, 7.2-inches wide, and 0.73-inches deep," notes Ryan Fleming of Digital Trends. "It isn't bulky, but it is slightly too big to fit in most normal pockets. It's slim and lightweight enough to easily fit in cargo pants pockets, and won't weigh you down if you put it in your backpack." Compared to the PlayStation Portable, Fleming writes, "the Vita shows a marked improvement. The awkward angles have been removed and replaced with rounded corners that make far more sense than the uncomfortable ridges on the early PSPs." 
The display
"The first thing you notice is the lustrous, five-inch OLED screen, a gargantuan display that is almost intoxicating," writes the critic for the New York Daily News. "Don't be surprised if you stare at the screen for a few moments as soon as you power up the machine (I certainly did), just to marvel at the brilliant color production. The 960x544 display looks good from all angles and performs well with both games and movies."
The controls
"The Vita hardware makes use of just about every control paradigm used in the gaming world today, from traditional hardware buttons to touch and motion," writes Sam Byford of The Verge. "The physical layout is pretty similar to the PSP, with the four face buttons, two shoulder buttons, and a D-pad joined by a pair of analog sticks, though unlike the PS3 you don't get button functionality by pushing them in." The Vita, Byford adds, "also has an array of motion sensors, including a gyroscope, accelerometer and digital compass, which allows for the same sort of input as the PS3's Sixaxis controller."Â 
The hidden costs
"Anything downloaded and installed on the Vita must be done with the use of a Vita Memory Card, as the Vita has an undisclosed – but seemingly small – amount of onboard storage," writes the team at CNET. "Vita Memory Cards are even smaller than the game cards, mostly resembling Sony M2 and microSD cards. Vita Memory Cards have become a particularly controversial subject with the Vita, as it's also required to play almost all Vita games and media apps. Even more disheartening is the fact that a Vita Memory Card isn't included in the box." 
The software
Writing at Engadget, Sean Buckley calls the software on the Vita, which is controlled via the touchscreen, "smartphone-esque." Touch is "the name of the game; the menu won't accept any input, save that of your capacitive-friendly digits, Buckley continues. "Blowing off the buttons is a bit of a bold move, but when the touch controls work this well, we really don't mind. Navigation is simple and intuitive – flicking north or south brings you through as many as ten pages of staggered icons, each representing an app, game or feature." 
The conclusion.... 
"The Vita is not a flawless system, but when it comes to the important features that make a handheld gaming console worthwhile, it hits most of the notes," writes Kyle Hilliard of Game Informer. "Incredible graphics, responsive touchscreen and tilt mechanics, and the extra control stick make the Vita one of the most well-rounded handhelds we've ever seen. Given its myriad input options, the Vita can satisfy the casual gamer used to playing games with a touchscreen and the much harder to please hardcore gamer who wants full control and amazing graphics." 
---