iPad 3 with 4G heading to AT&T and Verizon: report
(Read article summary)
The iPad 3 will be the first iPad to connect with the Verizon and AT&T 4G LTE networks, according to one source.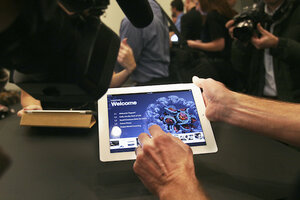 Reuters
The iPad was an extraordinary success for Apple – according to one report, Apple managed to unload 43 million of the tablet computers over the course of 2011. So it makes sense that interest would be extremely high in the iPad 3, the purported successor to the iPad 2. Last we checked, Silicon Valley scuttlebutt put the iPad 3 launch in early March; the device is rumored to be getting a better screen, and more powerful innards.
So what other new technology will arrive onboard the iPad 3? A 4G LTE antenna, maybe. This morning, in a much-cited dispatch, The Wall Street Journal reported that at least some versions of the new iPad will get 4G connectivity, both on the AT&T and Verizon Wireless high-speed networks. Caveats abound: The carriers are declining comment, and so is Apple; the Journal says only that the information comes from "people familiar with the matter."
---