Twisted Metal review roundup
(Read article summary)
Twisted Metal review scores are in. Time to strap on that seatbelt.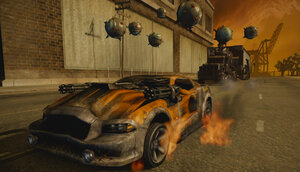 Eat Sleep Pray
Twisted Metal, the rip-and-roar driving franchise published by Sony, first hit shelves back in 1995, as an exclusive for the PlayStation console. Since then, a veritable traffic jam of sequels have appeared, including Twisted Metal 2, 3, 4, and Twisted Metal: Black. The latest in the series is titled simply Twisted Metal, and it arrives this week on the PlayStation 3, in high-gloss HD.
The game features the recurring characters Sweet Tooth and Calypso, along with the usual litany of armored trucks, explosives, and Really Big Guns. (Seat belts suggested.) So how does Twisted Metal stack up? Let's go to the scorecards.
The plot (so to speak)
"The story is told through the perspectives of three characters – Sweet Tooth, Grimm and Doll Face – entered in the Twisted Metal tournament run by mastermind Calypso," writes Brett Molina of USA Today. "If they win, they're granted any prize they choose. In the case of clown-faced serial killer Sweet Tooth, for example, it's to find the one victim that escaped his grasp. Although the story elements are very loosely tied to the game overall, they do offer this sinister backdrop with short tales that play out like an episode of The Twilight Zone."
The vehicles
---