Can the PlayBook OS 2.0 save the BlackBerry tablet?
(Read article summary)
RIM this week introduced PlayBook OS 2.0, a software update for the PlayBook slate.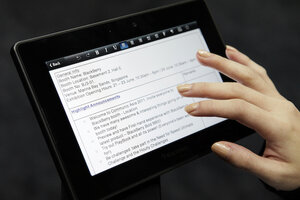 Reuters
Last year, RIM released the BlackBerry PlayBook, a tablet computer designed to compete with the Apple iPad. But reviews were tepid, sales were lackluster, and RIM was forced to repeatedly slash the price on the device, in a (mostly) unsuccessful effort to gin up consumer interest. Now RIM has announced the arrival of PlayBook 2.0, a software upgrade that addresses some of the complaints voiced by critics of the RIM tablet.
Among the niceties on the PlayBook 2.0 software: more social networking integration, more apps, and the ability to check your email without tethering the PlayBook to a BlackBerry smartphone.
"It's what the first Playbook software should have been from a company which stakes its brand on messaging strength, with tightly integrated calendar, email, and contacts," Frost and Sullivan analyst Craig Cartier told Reuters today.
---