New Nook Tablet: Price is down, but so is memory capacity
(Read article summary)
Barnes and Noble this week introduced a new Nook Tablet, which comes equipped with 8GB of memory, and a new $199 price tag.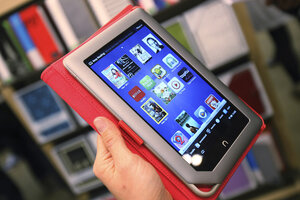 Reuters
Back in November, Barnes and Noble unveiled the Nook Tablet, a $249 machine that one reviewer described as "the best looking 7-inch slate on the market." The Nook Tablet sold well, but its launch was partially obscured by the buzz-heavy arrival of the Amazon Kindle Fire. Now Barnes and Noble is wading back into the fray with a new Nook Tablet, which matches the Kindle Fire at the $199 price point.
The latest Nook Tablet includes 8GB of memory, as opposed to the first Nook Tablet, which shipped with 16GB. Less memory, in other words, and a lower point-of-entry. Otherwise, the stats are the same: a 7-inch screen, 512MB of RAM, 11.5 hours of reading time, and access to approximately 2.5 million books. In a press release, Barnes and Noble also added that it would drop the price of the Nook Color to $169, down from $199.
So why all the price slashing? Well, as Roger Cheng of CNET notes, Barnes and Noble "badly needs a success in the tablet arena."
---