Google and Microsoft square off over online privacy concerns
(Read article summary)
Last week, users of Apple's Safari browser accused Google of violating their privacy to place "tracking cookies." Now Microsoft says Google is circumventing privacy features in the Internet Explorer browser, too.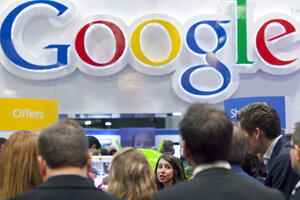 Mark Lennihan/AP/File
Google spent much of last week dodging criticism from Apple users about its online privacy practices. But when Microsoft got involved this week, that's when things got really interesting.
Users of Apple's Safari browser recently claimed that Google was violating their privacy by circumventing a mechanism the browser uses to disable tracking. Here's what's (apparently) going on under the hood: by default, Safari disables third-party cookies, nuggets of code that companies can use to identify users returning to a site they've visited before, or to track what other sites they visit. Safari can accept cookies if a user explicitly gives permission, but Google's ad platform reportedly used a workaround to mimic approval of its cookies.
Now, Microsoft claims that Google is taking a similar approach to their Internet Explorer browser. Internet Explorer uses a different method than Safari to disable tracking cookies: its P3P technology allows it to gauge a site's privacy policy and automatically block cookies if that policy isn't up to snuff. In a blog post on Monday, Microsoft corporate vice president Dean Hachamovitch accused Google of intentionally bypassing P3P to enable tracking cookies.
Google responded by dismissing P3P as out of date and "widely non-operational," pointing to a 2010 Carnegie Mellon study identifying more than 11,000 websites -- including some of Microsoft's own -- that bypass it. The study showed that lots of websites ignore P3P accidentally, while others, including Google and Facebook, do it to avoid Microsoft's scrutiny of their privacy practices. Google senior vice president Rachel Whetstone wrote that it is "impractical to comply with Microsoft's request while providing modern Web functionality." No web browser aside from Internet Explorer supports P3P.
---