Lightsquared: what happened, what's next, and why it matters
(Read article summary)
Upstart company Lightsquared planned to use ground towers and satellites to build a wholesale 4G network that would expand mobile access to rural parts of the US. But the FCC spiked the proposal over technical concerns. Now what?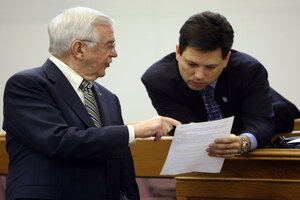 Bob Brown / Richmond Times-Dispatch / AP
It would have been a stirring success story: an upstart company building its own wireless network to compete with telecom giants Verizon and AT&T. But things aren't looking great for Lightsquared.
The company's plan was to build a wholesale 4G network -- a system that would bring fast Internet access to the entire United States -- using a combination of land-based towers and satellites. The company has already launched a satellite into orbit, paid for frequency to be used for the project, and even struck a $65 million deal with Sprint to build and operate its network for the next 15 years.
Now, a technical hiccup could bring it all to a halt.
It turns out that the frequencies on which Lightsquared would build its network bump up against those currently used by many consumer GPS devices. The portions of the spectrum are close enough, in fact, that this week the FCC rejected Lightsquared's application to build its network, saying that it would cause "irrevocable issues" with GPS equipment.
---