iPad 3 will look a lot like the iPad 2: report
(Read article summary)
iPad 3, Apple's best-selling tablet, is not getting a radical redesign, judging by a new photo. But the best argument for the iPad 3 may be its intangible features.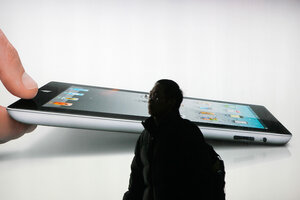 Reuters
The iPad 3 is coming, probably with an HD display, a better processor, and maybe even 4G support.
But is Apple planning on radically redesigning the chassis of its top-selling device? Probably not, judging by a much-discussed photo obtained by a Chinese blogger and posted today on MacRumors. The image purportedly shows the front glass and digitizer assembly on the iPad 3 – and the whole thing looks a lot like the assembly on the iPad 2.
Writing at MacRumors, Eric Slivka argues that the allegedly leaked photo, combined with earlier snapshots of the reported casing on the iPad 3, yield a pretty convincing composite portrait of the new device.
"The [display assembly] appears nearly identical to that of the iPad 2, with the major distinguishing feature being a relatively long ribbon cable extending up the side of the display as opposed to a shorter cable with a sideways orientation seen in the iPad 2," Slivka writes. "Other features of the iPad 3 display include the same round home button seen in all iOS devices so far and a hole in the top bezel to accommodate both the front-facing camera and the ambient light sensor."
---