Nokia now No. 1 vendor of Windows Phone 7. Will its gamble pay off?
(Read article summary)
Just a year after Nokia and Microsoft announced their partnership, Nokia is shipping more Windows Phone 7 handsets than any other manufacturer.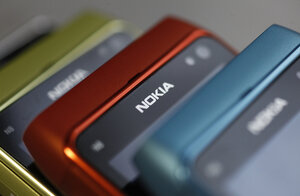 Reuters
Late last year, Nokia took the wraps off the Lumia 710 and Lumia 800, the first two Nokia handsets to run the Windows Phone 7 operating system – and the first fruits of the much ballyhooed relationship between Nokia and Microsoft.
Today comes news that just a couple months later, Nokia is already the largest Windows Phone 7 vendor in the world, topping former title-holder HTC.
According to Strategy Analytics, 2.7 million Windows Phone handsets were shipped globally in the fourth quarter of last year, a 36 percent from the quarter before. Of those 2.7 million handsets, 900,000 were sold by Nokia, giving the Finland-based company a 33 percent share of the overall Windows Phone market.
Translation: More Windows Phone devices are shipping, and more of them are being shipped by Nokia.
"An expanded portfolio of Windows Phone 7 models, such as the Lumia 800, an increased retail presence and highly visible marketing campaigns across several European and Asian countries drove Nokia's growth," Strategy Analytics exec Neil Mawston said in a press release this week (hat tip to CNET for the quote).
---