Windows 8 launches in preview mode
(Read article summary)
Windows 8, the latest operating system from Microsoft, is available this week as a Consumer Preview.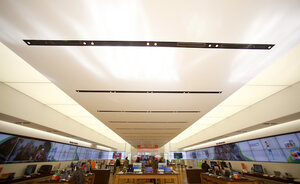 Microsoft
Microsoft today took the wraps off Windows 8, the latest iteration of its popular operating system, and the first to be designed as a cross-platform OS – on traditional desktops, laptops, and on tablets. Users interested in getting a sneak peek of the OS, which will likely launch later in 2012, can navigate to this page, and download a preview version of the software.
"[The preview] represents a work in progress, and some things will change before the final release," Microsoft's Kent Walter wrote in a blog post today. "This means you'll encounter some hiccups and bugs. One of the great things about widely releasing a preview like this is that it gives us a chance to get a lot of feedback through telemetry, forums, and blog posts on where we can smooth out some of the rough edges."
Windows 8 has been described as a mash-up of "Windows Phone, iPad and traditional desktop Windows." The OS features the Metro interface, a tiled-layout intended to appeal to users accustomed to uncluttered smartphone and tablet screens. Microsoft clearly hopes Windows 8 will appeal to a fresh generation of users.
---