International Women's Day: From communist roots to global holiday (+video)
(Read article summary)
International Women's Day took a long and winding road before the United Nations officially adopted it. Over time, the holiday has taken on many different flavors, from communist protests to lavish gifts to a flowery Google doodle.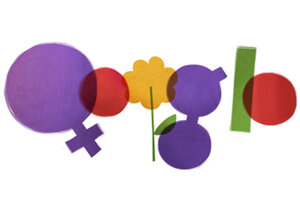 Google
March 8 marks International Women's Day. The century-old holiday grew out of the communist movement, but since then has become many different things depending on where you live. For some, it's a somber reminder of the lingering inequality for women. Elsewhere, it's practically Valentine's Day.
How did a day of socialist protest become represented by the vernal splash of color in Thursday's Google doodle? The answer leads us back to the early 1900s.
People forget that women could not vote for president in the US until 1920, two years after World War I. Several states allowed women to vote in local elections. (New Jersey actually extended the right in 1776 – same year as the Declaration of Independence – but then took it away thirty years later.) It took a lot of convincing before Congress drafted the 19th Amendment, which now allows all Americans to vote.
A decade before the 19th Amendment, 15,000 women marched through New York City. This garment workers' strike demanded better pay, shorter working days (eight-hour days were a luxury back then), the right to vote, and an end to child labor. "They adopted the slogan 'Bread and Roses,' with bread symbolizing economic security and roses a better quality of life," writes the United Nations in its history of International Women's Day.
---