Microsoft Office 15 will open Office experience to tablets, smartphones: report
(Read article summary)
Office 15, the forthcoming software suite from Microsoft, incorporates the Metro interface from Windows 8.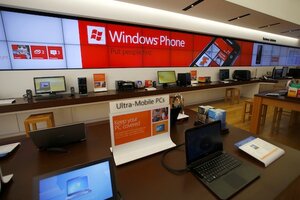 Reuters
Late last month, Microsoft launched a consumer preview of Windows 8, the latest iteration of its popular operating system, and the first to be designed as a cross-platform OS – software for use, in other words, on traditional desktops, laptops, and on tablets. Reviews have been mostly kind. Now Microsoft is releasing a very limited preview of its new Office suite, and according to one tester, the entire Office experience is about to be revolutionized.
The tester in question is Paul Thurrott, who runs Supersite For Windows, a popular tech site. Thurrott spent an undisclosed amount of time with the new Office software – officially titled Office 15 – and he says the products sits "visually, between the new Metro style and the traditional desktop." Metro, of course, is the tiled interface introduced with Windows 8. Thurrott's entire report is here; it's well worth reading in full.
---