Three new Kindle Fire tablets are on the way: report
(Read article summary)
Amazon may be close to releasing a successor – or successors – to its popular Kindle Fire tablet.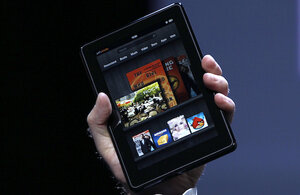 Reuters
The Kindle Fire has been a success for Amazon – so much so that the Pew Research Center, in a report released earlier this year, estimated that the release of the Fire single-handedly helped drive up tablet sales nationwide. Now comes news that Amazon is prepping three new Fire tablets, including an upmarket 8.9 inch device with a high-resolution screen, which would presumably compete with the recently-launched Apple iPad.
Amazon plans to hit a range of price points (and prospective audiences), according to the China Economic News Service. Two of the new tablets would measure 7-inches, just like the current Fire, but one would get a screen resolution of 1024 by 600, and the other would clock in at 1280 by 800. Meanwhile, the "high-end" Fire would measure 8.9-inches, more in line with the iPad, and ship with a 1920 by 1200 display.
---