Nokia Lumia faces hurdles in Europe: report
(Read article summary)
The Nokia Lumia 900 has sold out of online stores in the States, Nokia said this week. But overseas, the prospect for the Lumia line may be more grim.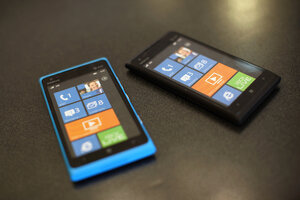 Reuters
Last year, execs from Nokia and Microsoft announced they would team up to produce a new line of smartphones powered by the Windows Phone OS and manufactured by Nokia. Now those same smartphones are finally hitting shelves in Europe and the US. So what's the verdict?
Well, it's a mixed bag.
According to Nokia, the Lumia 900, the flagship of the new Lumia line, is already sold out of online shops in the US – a "function of demand," Nokia says.
But a much-discussed report from Reuters has it slightly differently. Far from thriving, in Europe Nokia is still struggling to keep up with competitors such as Apple and Google, whose Android operating system has posted steady gains for months. "No one comes into the store and asks for a Windows phone," an executive at a European operator told Reuters. That same carrier has sold the Lumia 800 and 710 since December, Reuters reports.
---