Diablo 3 beta throws open doors, this weekend only
(Read article summary)
Diablo 3, the much-anticipated fantasy game, is scheduled for launch in North America on May 15. In the meantime, you can get your hands on the Diablo 3 beta version.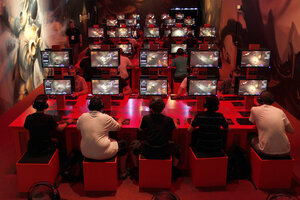 Reuters
Diablo 3: One of the most eagerly-anticipated games in recent memory, and also one of the most frequently delayed. Horizons readers will remember that back in September of last year, Blizzard announced that Diablo 3, originally slated to arrive in 2011, would be held until early 2012 – enough time for the developer to polish up the gameplay.
"[T]his week we pulled together people from all of the teams involved with the game to decide whether we felt it would be ready before the end of December, and we grudgingly came to the conclusion that it would not," a Blizzard exec wrote at the time. "Ultimately, we feel that to deliver an awesome Diablo sequel that lives up to our expectations and yours as well, we should take a little more time and add further polish to a few different elements of the game."
Since then, Blizzard has finalized a May 15 North America launch date for Diablo 3.
---