Target waves goodbye to the Amazon Kindle (but Nook can stay)
(Read article summary)
Target and Kindle are parting ways. What's behind the split?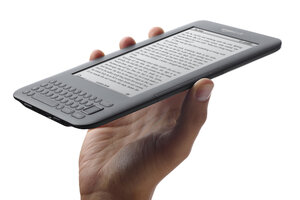 Reuters
In 2010, Target began selling Amazon's Kindle line of e-readers. Although Amazon is pretty tight-lipped about sales figures, all indications are that the Amazon products – and especially the Kindle Fire – performed well for Target. Which makes it all the more strange that Target will banish all Amazon products from its brick-and-mortar outlets and online store.
"Target continually evaluates its product assortment to deliver the best quality and prices for our guests," reps for Target confirmed in a statement this week, after the Verge first broke the news. "Target is phasing out Kindles and Amazon- and Kindle-branded products in the spring of 2012. We will continue to offer our guests a full assortment of e-readers and supporting accessories including the Nook."
So what's behind the move? Well, as Laura Hazard Owen of GigaOm points out, it may be a simple matter of competition: In many ways, Target and Amazon, which both sell everything from deodorant to electronics, are tussling over the same turf. "After all, this reasoning could go," Hazard Owen writes, "why should Target serve as a store showroom for Amazon products?"
---