Facebook App Center will usher in era of paid Facebook apps
(Read article summary)
The Facebook App Center is set to go live in the next few weeks, on the Web and also on iOS and Android.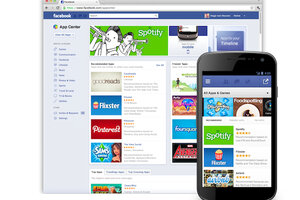 Facebook
Facebook this week took the wraps off a new App Center, an online marketplace in the mold of the iTunes App Store or Google Play. Writing yesterday on the Facebook Developers Blog, software engineer Aaron Brady said the App Center would go live in the next few weeks, both on the Web and in Apple iOS and Android iterations. Of note: Facebook's marketplace, Brady said, will now allow paid apps.
"Many developers have been successful with in-app purchases, but to support more types of apps on Facebook.com, we will give developers the option to offer paid apps. This is a simple-to-implement payment feature that lets people pay a flat fee to use an app on Facebook.com," Brady wrote.
Of course, for Facebook, the appeal of a centralized app marketplace is clear: It gives users more ways to stay on Facebook, for longer amounts of time.
But for the regular user, the App Center should be a boon, too. In the past, tracking down Facebook apps was something of an erratic process – this blogger, for one, relied on recommendations from friends. Now everything will be centralized, easily-accessible, and organized. Moreover, as Matt Peckham of Time Magazine points out, the App Center will also allow users to get to know an app before it's installed.
---