Windows RT will ban Firefox and Chrome, says Mozilla
(Read article summary)
According to Mozilla, Windows RT, a tablet-centric iteration of the upcoming Windows 8 OS, could be hitched exclusively to Internet Explorer.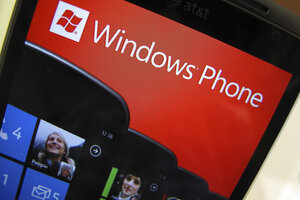 Reuters
Sometime later this year, Microsoft will release three version of its latest browser, Windows 8: plain old Windows 8 (for the average user), Windows 8 Pro (for committed geeks), and Windows RT (for use on ARM-based tablet computers). Windows RT, Microsoft has hinted, includes all the usual Microsoft standbys, including Word and Excel, but the whole ensemble will be controlled by a touch-centric interface.
Good news for tablet aficionados.
And unfortunate news for Google and Mozilla.
According to Mozilla, the makers of Firefox, Microsoft is planning to allow only one fully-functioning browser on Windows RT: Microsoft's own Internet Explorer. Writing on the Mozilla blog, Harvey Anderson, general counsel for the company, lashed out at Microsoft for the slight, and called the alleged move "an unwelcome return to the digital dark ages where users and developers didn't have browser choices."
---