Samsung Galaxy S III: Big screen, big battery, big potential
(Read article summary)
A look at early hands-on reviews of the Samsung Galaxy S III.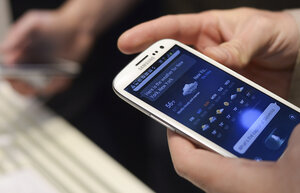 Reuters
Next month, Samsung will officially launch the Galaxy S III, a high-powered LTE smartphone running Android 4.0 and a majorly powerful quad-core processor. The Galaxy S III is clearly designed to go toe-to-toe with the iPhone and the Droid line: Witness the 4.8-inch AMOLED screen, the sleek chassis, and the 4G capability.
So is the Galaxy S III actually any good? Samsung, for its part, has not yet released a finished version of the product. But several tech sites have managed to take a few spins on the S III, and what they found is heartening indeed. Over at CNET, for instance, Jessica Dolcourt lauds the integration of the 8-megapixel camera and the so-called Buddy Share functionality, which allows users to tag and then text or email photos of friends.
There is "a bit of the learning curve and plenty of finger-tapping as you seek out features," Dolcourt writes. "Regardless, I do really like Samsung's effort to deeply integrate the camera with the address book in an effort to make sharing photos even more seamless." As for the photos themselves, they're "sharply defined and colorful, with the greens looking a tad over saturated as they tend to do on Samsung's camera phones," she adds.
---