On eve of Facebook IPO, GM pulls millions in ads
(Read article summary)
General Motors yanks $10 million in Facebook ads. Will this affect the Facebook IPO?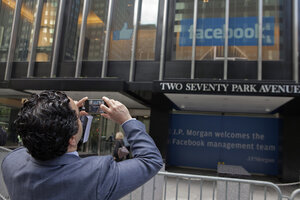 Reuters
Facebook, by all accounts, will soon become the most valuable company ever to go public, surpassing even United Parcel Service, which received a valuation of $60.2 billion for its 1999 IPO. Much of that value is tied to the ability of Facebook to rake in cash from online and mobile advertisements. For its part, Facebook has bragged that it offers its advertisers unparalleled reach and accuracy.
But not all of those advertisers are happy.
According to The Wall Street Journal, which first broke the news, car-maker General Motors is set to yank its advertisements from Facebook – a direct result of the failure of the ads to impact consumers' purchases. The move, the Journal notes, "puts a spotlight on an issue that many marketers have been raising: whether ads on Facebook help them sell more products."
In an interview with Bloomberg News, Greg Martin, a GM spokesman, said the company "regularly review[s] our overall media spend and make[s] adjustments as needed. This happens as a regular course of business and it's not unusual for us to move our spending around various media outlets." Still, for Facebook, the timing is notably bad.
---