Google Chrome edges out Internet Explorer. Will the lead last?
(Read article summary)
Google Chrome has dethroned Microsoft's Internet Explorer, according to a new report.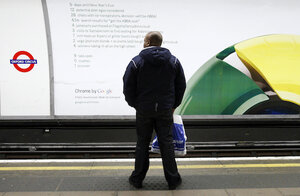 Reuters
Google Chrome has unseated Microsoft's Internet Explorer as the most popular Web browser in the world. According to the team at StatCounter, a website analytics company, Chrome now holds approximately 32 percent of the global market, while Internet Explorer holds approximately 31 percent. Not a huge gulf between the two, obviously, but a notable milestone nonetheless – and the first time Chrome has held the lead for a substantial portion of time.
Back in March, StatCounter had Chrome temporarily unseating Internet Explorer for a single day. "Whether Chrome can take the lead in the browser wars in the long term remains to be seen, however the trend towards Chrome usage at weekends is undeniable," Aodhan Cullen, CEO of StatCounter, wrote at the time. "At weekends, when people are free to choose what browser to use, many of them are selecting Chrome in preference to IE."
---