Bob Moog: How he changed music forever
(Read article summary)
A Google doodle today honors the legacy of Bob Moog, the creator of a famous line of synthesizers, and the grandfather of electronic music.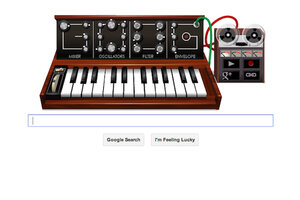 Google
A Google doodle today is emblazoned with an interactive synthesizer, an homage to music pioneer Bob Moog, who would have turned 78 today.
So who was Robert "Bob" Moog? A consummate tinkerer, an electronic music pioneer, founder of Moog Music, and the progenitor of a sound that has been described as "assertive, bouncy, exotically wheezy and occasionally explosive."
Moog was born and raised in New York City. He studied physics at Queens College and electrical engineering at Columbia. In the mid-1960s, as a doctoral candidate in engineering physics at Cornell University, he paired with the composer Herbert Deutsch to develop a voltage-controlled synthesizer module – a portable, relatively-easy-to-use synth that yielded a range of weird and otherworldly noises.
As the Associated Press has pointed out, "other synthesizers were already on the market [at the time], but Moog's stood out for being small, light and versatile." Moreover, Moog's timing was right: Bands such as The Beatles, which would eventually use a Moog machine on the album "Abbey Road," wanted a psychedelic sound, and the Moog could provide it in spades.
---