Newly knighted, Apple design chief hints at mystery product
(Read article summary)
Jonathan Ive, the design chief at Apple, told a reporter that his current work – still a mystery – trumps everything that has come before.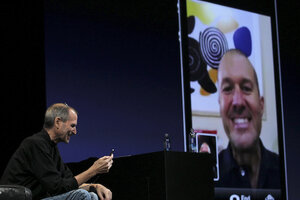 Reuters
The iPhone: A good looking machine. So good, in fact, that the man who designed it has just been made a "sir." According to the BBC, Jonathan Ives, the design chief at Apple, was knighted on Wednesday by Princess Anne, at a ceremony at Buckingham Palace. The BBC reports that Ives, a native of Britain, even had a friendly post-knighting chat about the Princess's iPad and Ive's regular trips to and from his home country.
Jonathan "Jony" Ive was born in 1967 in London. He studied industrial design at Northumbria University, and after graduation, he and three friends founded a design agency called Tangerine. One of Tangerine's first clients was Apple, which promptly hired Ive away to California. Ive was made design chief at Apple in 1992, and in the two decades since, he has helped oversee the creation of a range of products, including the iPhone and the iPod.
Steve Jobs, the late founder of Apple, told biographer Walter Isaacson that Ive was a kind of "spiritual partner."
---