SpaceX launch, a strong start for commercial spaceflight
(Read article summary)
With Tuesday's launch of the Dragon space capsule aboard the Falcon 9 rocket, SpaceX made a strong case for the viability of commercial spaceflight. But the craft still has quite a few tests to pass for its mission to be a success.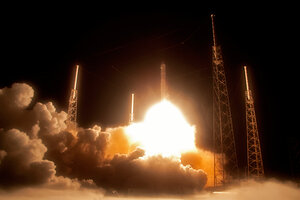 John Raoux/AP
Ever since the retirement of the Space Shuttle fleet last year, the United States has had no way to send astronauts into space by itself. But the successful launch on May 22 of the Falcon 9 rocket and unmanned Dragon spacecraft, built by the California-based SpaceX company, puts the country one step closer to regaining that ability.
The Dragon is scheduled to dock with the International Space Station later this week to deliver more than 1000 pounds of food, clothing, and scientific equipment, the first time a commercial company has docked a craft with the station. It's also the first time an American craft has been launched toward the International Space Station since the inauguration of the space shuttle fleet in 1981.
The Dragon is an important step in NASA's plan to outsource space travel to the private sector. The government hopes that private companies will be able to ferry cargo and astronauts to and from space more efficiently, freeing it to focus on deep-space missions and a potential trip to an asteroid and to Mars. To that end, SpaceX already has $1.6 billion in launch contracts from NASA, and if they can prove that they can safely bring cargo to and from the space station, they will ease concerns about the safety of commercial space travel and strengthen their ties to the space agency.
---