$75 million? Apple CEO Tim Cook says, 'No thanks'
(Read article summary)
Tim Cook, the CEO of Apple, has said he won't take the quarterly $75 million payments he would earn under a new Apple employee policy.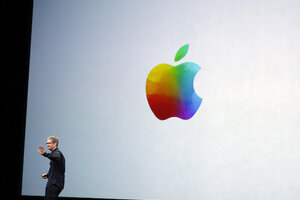 Reuters
Apple CEO Tim Cook is turning down a payout worth approximately $75 million. 
In a filing with the Securities and Exchange Commission on Thursday, Apple said it had instituted a new policy whereby employees will be eligible to collect a quarterly dividend on shares of restricted stock. Cook's dividends would be worth approximately $75 million per quarter, Reuters reports. But Cook, who received just shy of $400 million in compensation last year, is requesting that he not receive the dividends on the restricted stock. 
Neither Cook nor Apple publicly gave a reason for the move. So hey, why did Cook walk away from such a big pay day?
Well, over at All Things D, John Paczkowski chalks it up to "classiness." It's a "remarkable" gesture "in an era when entitlement, greed and arrogance are so often part of the job description," Paczkowski writes. "Which is not to say that he's not reaping some benefits here. There's a lot of mileage for Apple in a symbolic gesture like this, and Cook profits when Apple's overall value increases."
Since taking over as CEO of Apple in 2011, Cook has assembled an impressive track record. 
Cook is the top-rated chief executive in the country, according to an recent survey from Glassdoor. "Employees appear to think that Cook has managed to keep Apple's core corporate culture intact," writes Hayley Tsukayama of the Washington Post. "And he's certainly been able to keep the company's momentum going – though the launch of the iPhone 4S and the third generation of the iPad – feats that Apple is happy to reward." 
Not that there haven't been a few hurdles. Among them: a recent New York Times report alleging that employees at Foxconn, which builds iPhone and iPad parts for Apple, were underpaid and overworked. In March, Cook dropped in at a Foxconn plant in China. It was a kind of repeat trip: In 2010, in the wake of a series of high-profile suicides, Cook, then the COO, reportedly traveled to China to investigate working conditions at several Foxconn factories. 
Next up for Apple? A new iPhone, probably. Recent reports have indicated that the next iPhone, presumably titled the iPhone 5, will likely ship with a better processor, sharper graphics, a rejiggered chassis, and maybe even a hulking 4-inch display. (By comparison, the current iPhone packs a 3.5-inch screen.) Also: 3D maps. If you believe the rumors, look for a September or October launch date. 
For more tech news, follow us on Twitter @venturenaut. 
---