With Axis, Yahoo wades into the browser wars
(Read article summary)
Axis, from Yahoo, is available as a plug-in for most browsers and as an app on Apple iOS devices.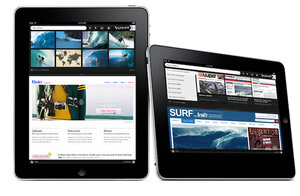 Yahoo
Look out, Mozilla: Yahoo is wading into the browser wars.
In a press release today, Yahoo reps took the wraps off Axis, essentially a browser "skin," which drapes a proprietary features over your current browser. Axis is heavily visually oriented: search results crop up as thumbnails instead of as a link list.
"Our search strategy is predicated on two core beliefs – one, that people want answers, not links and two, that consumer-facing search is ripe for innovative disruption," wrote Yahoo exec Shashi Seth. (Interestingly, this idea – "answers" over "results" – is also the core conceit behind Bing and the Google Knowledge Graph, which was introduced this month.)
Axis is available on Apple iOS devices such as the iPad and iPhone, and as a plug-in for most major browsers, from Firefox to Chrome. So, hey, how does Axis stack up? Well, over at The Verge, Scott Lowe notes that the Axis experience changes depending on the device. "For desktop and laptop users, Axis is little more than a glorified toolbar," he writes.
---