Latest MacBook Pro gets retina display – and a hefty price tag
(Read article summary)
Apple on Monday unveiled the newest MacBook Pro, a powerhouse of a computer with a price tag to match.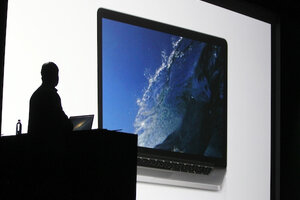 Reuters
Priced at more than two grand, the new MacBook Pro is not for the light-of-pocket.
But the latest version of Apple's flagship laptop, which was introduced today at the Worldwide Developers Conference (WWDC) in San Francisco, is a bruiser of a machine, with a quad-core Intel Core i7 processor, 768GB of flash storage, a .71-inch chassis, and a 2880x1880 "retina display" – the highest-resolution screen available on any laptop today, according to Apple marketing chief Phil Schiller.
The MacBook Pro, which weighs a reported 4.46 pounds – relatively light for a laptop – will get a base price of $2,199, CNET is reporting. Apple will begin selling the device through its website later today. Speaking at the WWDC keynote, Apple CEO Tim Cook called the rejiggered MacBook "the most beautiful computer we have ever made."
---