What does Facebook want with Face.com?
(Read article summary)
Facebook has acquired Face.com for a reported $100 million.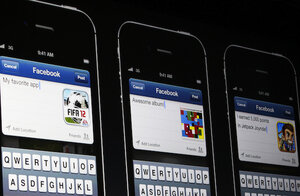 Reuters
Back in April, a pre-IPO Facebook confirmed it would buy Instagram for a reported $1 billion in cash and stock options. This week comes news that the newly public Facebook Inc. will purchase Face.com, an Israeli company that develops facial-recognition software. The terms of the deal have not been made public, but many analysts have put the price tag somewhere in the neighborhood of $100 million.
"We love building products, and like our friends at Facebook, we think that mobile is a critical part of people's lives as they both create and consume content, and share content with their social graph," the Face.com team wrote in a blog post today. "By working with Facebook directly, and joining their team, we'll have more opportunities to build amazing products that will be employed by consumers – that's all we've ever wanted to do."
---