Windows tablet: What does Microsoft have in store?
(Read article summary)
Microsoft is widely expected to unveil a Windows 8-powered tablet at a press event in Los Angeles today.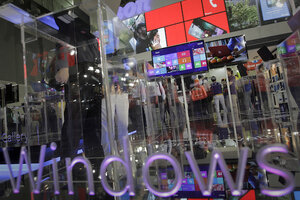 Reuters
Later on today, Microsoft reps will gather at Milk Studios, in Los Angeles, to introduce a new device – most likely (if the popular consensus is to be believed) a Windows 8-powered tablet computer. Initially, TechCrunch had reported that the tablet would be "built in conjunction with Barnes & Noble," but reps for the bookseller have denied the claim, saying only that the company is "not participating" in this afternoon's event.
So what does Microsoft have on tap? Well, here's one option: A sub-$500 tablet, which would undercut the Apple iPad on price (Apple's tablets start at $499) while providing more functionality than the feature-lean Amazon Kindle Fire. In other words, analyst Salman Chaudhry told TabTimes, the Microsoft tablet must be cheap, and also "offer native Office tools, Xbox Live functionality and a stable of high-quality apps."
---