Facebook readies app subscriptions
(Read article summary)
Facebook announced this week that it's begun testing a subscription model for games and other apps. June is shaping up to be a busy month for Facebook: first it launched an App Center, then announced iOS 6 integration – now, plans to roll out app subscriptions.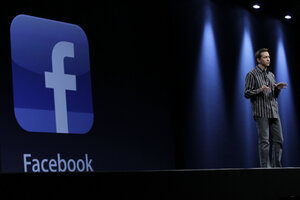 Paul Sakuma/AP
How does Facebook make money?
Lots of people asked this question when the company announced its IPO earlier in June. According to Facebook, most of its revenue (82 percent) comes from advertising. But now the company, and developers, have a new revenue stream: app subscriptions. Facebook announced Tuesday that developers will be able to offer subscriptions to premium apps starting in July, with Facebook itself taking a 30 percent cut of the revenue.
Plenty of apps now have ways to monetize their content. If you're playing "Draw Something," for example, you might use real-world money to buy coins in the app, then spend those coins on new words or other features. But those are single transactions, and they use the virtual currency of the app in question.
Now, developers will instead be able to offer a monthly subscription, billed in local currency. (Facebook Credits have been around since 2009, but since most games use their own currencies for in-app purchases anyway, it makes sense to offer pricing in dollars or yen rather than Credits.) Facebook is already testing the subscription model with developers like Kixeye and Zynga. The former's popular "Backyard Monsters" game, for example, will start offering exclusive items and abilities for $9.95 per month.
---