Much-hyped Samsung Galaxy S III revs toward US stores
(Read article summary)
The Samsung Galaxy S III, which runs Android 4.0 software, could go head-to-head with the iPhone 4S.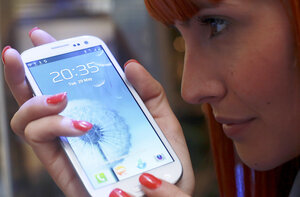 Reuters
Plenty of Android phones hit the market every year, but few with the same amount of breathless hype as the Samsung Galaxy S III – a handset first unveiled in May, at a major press event in London. The Galaxy S III is the successor to the Galaxy S II, itself a popular phone, and like that device, it runs the Android operating system (in this case, Android 4.0) and a custom Samsung user interface.
The Galaxy S III has sold well in England. This week, it comes to the US, with all the firepower intact: The 4.8-inch AMOLED screen, the 4G capability, the 8 megapixel camera and the svelte chassis.
So how does the Galaxy S III compare to its competitors?
The basic model with 16 gigabytes of memory will cost $200 with a two-year contract through AT&T, Verizon Wireless, Sprint and U.S. Cellular. That's comparable to the iPhone's $199. A 32 GB model will cost $250, which is cheaper than a comparable iPhone at $299. T-Mobile will charge at least $30 more than others, though it may still be cheaper overall with lower monthly data fees over two years.
---