Apple releases new Podcasts app for iPad and iPhone
(Read article summary)
Many expected podcasts to get star treatment in iOS 6, but Apple beat us to the punch: a dedicated app launched in the App Store on Tuesday. With Podcasts, Apple gives users better listening controls and a throwback tape deck to boot.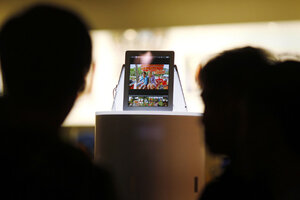 Tim Wimbourne/Reuters/File
Apparently the rumors were true: with the release of a separate Podcasts app, the iTunes store is slimming down, at least on iOS.
Rumors swirled a few weeks ago that Apple would remove podcasts from the regular music app in iOS 6. But while the latter won't launch until the fall, there's apparently no time like the present: Apple quietly launched a dedicated iPhone and iPad app, colorfully named "Podcasts," in the App Store on Tuesday.
The new app looks pretty similar to its previous incarnation as part of the iTunes app, with one difference: a "subscribe" button. Once you've subscribed to a podcast, you can either stream an episode or download it for online listening (early buzz is that streaming works much better than it did in previous incarnations). Podcasts will sync your position between devices, so you can start listening to All Things Considered on your iPhone and finish it later on your iPad.
---