iPad Mini: Smaller tablet may arrive by October
(Read article summary)
The iPad has come in one size – 9.7 inches – since Apple first introduced it in 2010. Now, Apple's component manufacturers are rumored to be preparing for production of a smaller 7- or 8-inch iPad, to be released before the end of the year.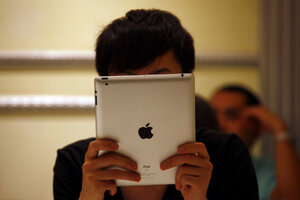 David Gray/Reuters/File
For months now, we've heard murmurings that Apple is preparing to make a smaller version of the iPad -- an iPad Mini, if you will -- with a 7- or 8-inch screen, which would compete with Google's Nexus 7 or Amazon's Kindle Fire. Now those rumors are coming into focus: Apparently the companies that supply Apple's components are gearing up to begin building smaller iPads in September, and Apple may announce the new tablet as soon as October.
Of course, rumors about any big technology company's plans ought to be taken with a grain of salt -- and that goes double when talking about a company as notoriously secretive as Apple. But this one comes from two august publications: the Wall Street Journal and the Washington Post, both of whom quote people "familiar with the situation" who asked not to be named. The Post adds that the smaller iPad won't have the high-res Retina Display found in the iPhone, the iPad released in March and, more recently, in the Macbook Pro.
---