Google+ on the iPad: Hangouts come to the Retina Display
(Read article summary)
Google released an update to its Google+ app Tuesday that brings the social network to the iPad in an attractive interface. The updated Google+ app is also available on iPhones and Android devices, and includes multi-person video chatting.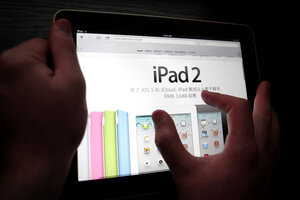 Carlos Barria/Reuters/File
Google and Apple may not be each other's biggest fans, but at least they're finding ways (sometimes) for their products to play nicely together. In June Google's Chrome browser debuted on the iPhone, and now a slick new Google+ app for the iPad is out, joining the iPhone version released last summer.
Early buzz is positive: the app incorporates all of Google+'s features in an interesting magazine-like layout, and even allows the multi-person video chats (Google calls them "Hangouts") that are undoubtedly one of the network's most useful features. If you have an iPad, you're probably already familiar with Apple's FaceTime video chat program, which runs smoothly but only lets you have one-on-one chats with other Mac or iOS users. Google's app will let you get in touch with people running just about any device with a camera and microphone, and you can hold a conversation with up to nine other people, if you're so inclined.
---