Amazon smart phone rumors: we could see a 'Kindle Phone' in 2012
(Read article summary)
Rumors of an Amazon-branded 'Kindle Phone' are solidifying, with the Wall Street Journal reporting that suppliers are testing components already. But would an Amazon phone make sense for customers?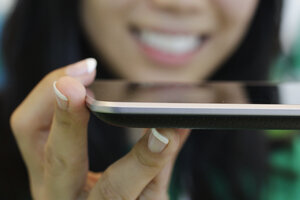 Paul Sakuma/AP/File
An Amazon smart phone -- call it the Kindle Phone -- might be more than a rumor.
The Wall Street Journal reported today that Amazon's component suppliers are testing a phone with a screen somewhere between 4 and 5 inches, citing those ubiquitous "people familiar with the situation." Add this to last November's rumor that Amazon would release a handset in the fourth quarter of 2012, and a separate Bloomberg report last week that Amazon was working on a phone with Foxconn (Apple's supplier for iPhones and iPads), and it's hard not to wonder if we might see a Kindle Phone within the next year.
It wouldn't be entirely out of character for Amazon to make a move for the smart phone market. The company dominated e-reader sales for years with the original Kindle before moving into tablets last year with the Kindle Fire. Amazon might see a handset as a logical hardware step. Research firms estimatethat Amazon sells both the Kindle and the Kindle Fire at a loss; the company makes up the difference because the devices make it easy for users to buy digital media from Amazon's store. The customer base it's built while following that model could give it an edge if it decides to release a phone.
---