Yahoo hack steals 400,000 passwords. Is yours on the list?
(Read article summary)
A Yahoo hack compromises 400,000 accounts. Here's how to see if yours was stolen.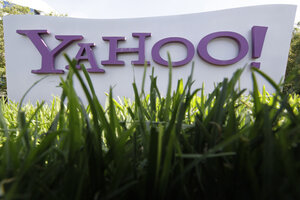 Paul Sakuma/AP/File
Yahoo, which has taken its share of hits in the last few years, added another black mark against it today when the theft of more than 400,000 accounts and as many as 450,000, including email addresses and passwords, was discovered.
The hacked emails and passwords were posted in a large text file.
The theft has been credited to a black-hat hacking crew called D33D, who most likely breached the server for Yahoo Voices, previously known as Associated Content, with an SQL injection hack. Because Yahoo purchased Associated Content in 2010, many non-Yahoo identities have been breached, including some with Google and AOL emails.
According to the Guardian, some names date back to 2006 and may be from an old list.
---