Betaworks buys social news site Digg, or what's left of it
(Read article summary)
Digg, one of the first social media sites, was bought on Thursday by development firm Betaworks for $500,000 – a fraction of its value in the late 2000s. Betaworks has a plan to "take Digg back to its startup roots."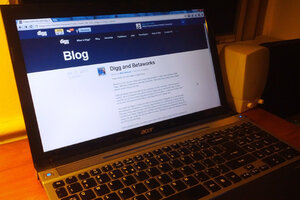 Jeff Ward-Bailey
In its heyday, social news site Digg raised $45 million from Silicon Valley investors. On Thursday, it was bought by New York development firm Betaworks for $500,000. What happened?
The short answer is that Digg's fortunes have been waning for more than two years. The company got in on social media early – it was one of the first "social news" sites, allowing users to submit stories and links from around the Internet and letting other users vote these links up to prominence or down into obscurity. In 2008, the site had 30 million monthly visitors, but its fortunes began to fall in 2010 as other social media companies such as Facebook and Twitter rose. It also faced competition from Reddit, a similar social news site that began drawing more monthly visitors last December. Digg currently has about 7 million visitors a month.
The deal highlights how far Digg has fallen: in 2008 the company was reportedly working on a deal to sell itself to Google for $200 million, although it never went through. And the announcement of the Betaworks acquisition had just 162 "Diggs" nine hours after it was posted -- a few years ago, such a story probably would have gotten thousands by this point.
---