Earnings day: Google flies high, Microsoft posts first-ever loss
(Read article summary)
Both Google and Microsoft announced their quarterly earnings on Thursday. Google is going strong in spite of a tough ad market; Microsoft took a half-billion dollar writedown on an old investment, but the rest of the company is humming along smoothly.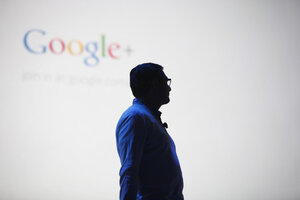 Stephen Lam/Reuters/File
Two of tech's biggest companies held their earnings calls on Thursday, and while Google executives got to report good news, Microsoft had a bitter pill to swallow: its first loss per share in its history as a public company.
Let's start with the positive. Google reported a 21 percent increase in revenue, thanks mostly to its Internet advertising business. The gains come in spite of a 16 percent year-over-year drop in ad rates, the amount that Google charges advertisers when users click on their ads. Many users are surfing on smart phones and tablets, where ads aren't as lucrative as on desktop computers -- but the total number of clicked-on ads increased 42 percent over last year, more than making up for the loss.
In its post-earnings conference call with analysts, Google execs also pointed to the success of past acquisitions like YouTube and the Doubleclick ad service, which are now big cash cows for the company. Its latest acquisition, hardware company Motorola, hasn't quite found its footing yet, reporting a loss of $233 million last quarter on $1.25 billion in revenue. Google probably isn't worried, though: Motorola gives it a leg up to compete against the likes of Apple and Samsung in the smart phone and tablet market.
---