Will a new comments policy help clean up YouTube?
(Read article summary)
YouTube has instituted a new comments policy. The problem? It's optional.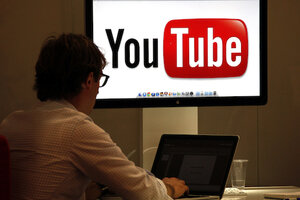 Reuters
The comments section of the average newspaper or magazine website: A noisy, lawless place. The comments section under the average YouTube video: completely terrifying, totally ungrammatical, full of errant exclamation marks. Last month, in an effort to bring some order to its comments section, YouTube, which is owned by Google, announced it would encourage users to log-in with their real name and photograph. 
"We're giving you the ability to change how you appear on YouTube, with the option to use your Google+ profile on your YouTube channel," YouTube engineer John Fisher wrote at the time. "One Google-wide identity was something that proved popular with new YouTube users when we began offering it in March, so we are now extending it to existing users."
The changes go into effect this week. So how are they holding up? 
Well, first of all, it's important to note that the new policy is far from mandatory. In other words, compared to Facebook, which bans pseudonyms, you don't need to reveal your real name on YouTube. It's just, you know, suggested. 
"[W]e realize that using your full name isn't for everyone," Fisher explained. "Maybe people know you by your YouTube username. Perhaps you don't want your name publicly associated with your channel."
If that's the case, you can control how you're seen on YouTube with a quick flip of a toggle switch.
And that's part of the problem, writes Leslie Horn of Gizmodo.
In a post today, Horn surveys the YouTube landscape and finds that a lot of users, having been given the choice, would prefer not to employ their real names at all. Moreover, "95 percent of comments still contain either a racial slur, a sexist tirade, is totally incomprehensible, or some combination of those," Horn writes. "The point is none of this is working, and Google is basically going to have to beg (or more likely, force) people to make the shift." 
Generally speaking, we agree: By not making the whole thing a requirement, YouTube probably won't see a drastic change in the quality of its comments. At the same time, as John P. Mello Jr. of PC World notes, there are reasons for wanting anonymity: "social and political activists living in repressive regimes" are going to shy away from services that don't allow anonymous posting and commenting. 
---