Google Fiber: $70 a month for speeds 100 times faster than broadband
(Read article summary)
Google Fiber, a new ultra-high-speed network, will soon go live in Kansas City.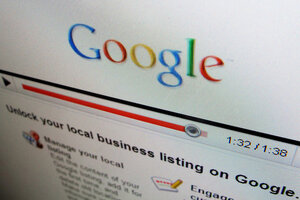 Reuters
Forget regular ol' broadband. 
Beginning this fall, residents of Kansas City will have access to an ultra-high-speed network called Google Fiber, which is reputed to be 100 times faster than services offered by other providers. At an event in Missouri, Google reps said Google Fiber would be sold at two price points: $70 for just the Internet, or $120 for Google Fiber TV – a package that includes a range of broadcast networks. 
Best part? If you sign up for Google Fiber TV, Google will throw in the (already extremely popular) Nexus 7 tablet. The Nexus 7 can be used like a remote control – load the thing up with the Google TV app, and flip the channels by touch screen. 
"[T]oday the Internet is not as fast as it should be," Google exec Milo Medin wrote in a blog post yesterday.
Medin said the average Internet speed in the US is 5.8 megabits per second, which he called only "slightly faster than the maximum speed available 16 years ago when residential broadband was first introduced. Access speeds have simply not kept pace with the phenomenal increases in computing power and storage capacity that's spurred innovation over the last decade, and that's a challenge we're excited to work on," Medin added. 
According to Reuters, which was on hand for the Kansas City unveiling, Google Fiber will boast speeds of a gigabyte a second. As others have noted, that's "smoking fast." (Or "lightning fast," if you prefer.) In fact, it's so smoking-lightning fast that it's unclear what exactly the average user – who logs on to stream a few videos or click through a news site – will immediately do with all that speed. But hey, better a hare than a turtle. 
Back in 2010, Horizons readers may remember, Google began soliciting applications from cities interested in hosting Google Fiber. Topeka, in an unsuccessful effort to nab the prize, even temporarily renamed itself "Google, Kansas."Â 
---