Mountain Lion roars off to record start
(Read article summary)
Mountain Lion, the latest iteration of the Apple desktop OS, has been downloaded more than a million times, Apple reported today.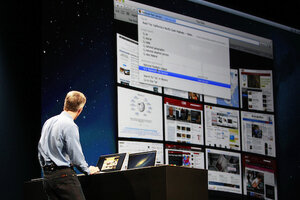 Reuters
Last week, Apple launched Mountain Lion, the successor to its Lion desktop OS. Mountain Lion is less a radical overhaul than a series of tweaks and upgrades: witness the iOS-like Game Center, a Notification Center, and the Messages platform, which is cribbed directly from the iPhone and iPad. The whole package costs $19.99 and is available via the Mac App Store.
And according to Apple, it's already a smash hit.
"Just a year after the incredibly successful introduction of Lion, customers have downloaded Mountain Lion over three million times in just four days, making it our most successful release ever," Philip Schiller, Apple's senior vice president of worldwide marketing, said in a press statement. (Not that Lion, which was released last July, sold particularly sluggishly: Apple unloaded a million copies of that OS in a single day.)
Mountain Lion, which brings Apple's desktop and mobile operating systems one more step closer together, was greeted warmly by critics.
---