Microsoft rep (inadvertently) confirms existence of 'new Xbox'
(Read article summary)
The Xbox 720, or whatever the next Xbox console will be called, has been name-dropped for the first time by Microsoft.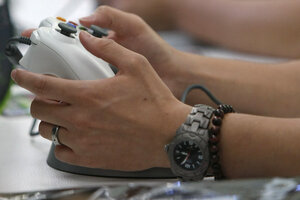 Reuters
Word of a new Xbox console have been flying around the Web for years.
And now, for the first time, a Microsoft rep has confirmed the existence of the device, which is reportedly codenamed "Durango." Speaking to the hosts of the Vergecast, a tech podcast, Windows Live general manager Brian Hall included the "new Xbox" on a list of products that will eventually interface with the forthcoming Windows 8 operating system.
Here's the pertinent quote, courtesy of Kotaku:
We did this – we've had Hotmail for – and operated Hotmail for about 16 years. We obviously have Exchange, and Outlook that people use at work. We just decided it was time to do something new and bring the best from each of those – put them together and release it right in time for the new wave of products that we have coming out with Windows 8, with the new version of Office, with the new Windows Phone and the new Xbox.
---