Surface tablet ruffles feathers among Microsoft's friends
(Read article summary)
Microsoft should 'think twice' about wading into the hardware game, an exec at Acer said this week.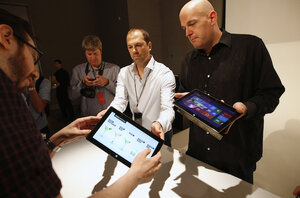 Reuters
Microsoft should "think twice" about making continued forays into the hardware business, an Acer executive said this week.
"We have said [to Microsoft] to think it over. Think twice," Acer chairman and CEO JT Wang reportedly told the Financial Times. "It will create a huge negative impact for the ecosystem and other brands may take a negative reaction. It's not something you are good at so think twice." At immediate issue is the Surface, a Windows 8-powered tablet expected to hit shelves in late October.
Microsoft will sell the Surface through its website and at brick-and-mortar Microsoft stores. At the same time, the Washington software giant will license the Windows 8 operating system to a range of hardware manufacturers, including the Taiwan-based Acer. For Acer, this is something of a slap in the face – after all, the company will be forced to pit its Windows 8 machines against Microsoft's Windows 8 tablets.
---